And also for the organizations that partnered with New York's finest to make this happen, like Transportation Alternatives (of which I am a proud board member).
Hip hip hurray!
Hip hip hurray!
Hip hip hurray!
Biking, where we can do it, is better for the planet and better for the people.
Images via Transportation Rules BikingRules.Org website: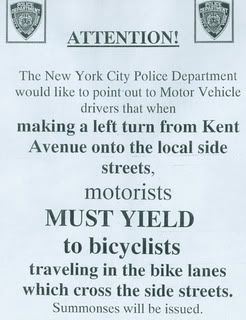 ----------
Colin Beavan (that's me!) is now leading a conversation about finding a happy, helpful life at Colinbeavan.com. If you want to know how people are breaking out and and finding authentic, meaningful lives that help our world, check it out the blog here and sign up to join the conversation here.